Sophie the Giraffe Infant Teether is an Excellent Toy and Gift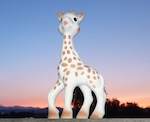 Sophie the Giraffe is a time-tested, popular, much-loved, and safe infant teething toy that has sold millions and millions of teethers in at least 46 countries in the world, for more than 50 years. Sophie is an excellent choice for an infant's first toy, and probably even more often purchased as a gift for teething infants, than by the parents of the infant.
Born near Paris, France, in 1961, Sophie was initially manufactured and marketed only in France. Nearly 40 years later, in 2000, the giraffe teether was first imported into the United States. At that time, and especially because of the popularity of Sophie amongst movie stars, the teething giraffe quickly became, and continues to be, an extremely popular infant teething toy throughout the United States.
In France, the initial marketing for Sophie the Giraffe was strictly "word of mouth." This marketing was more than adequate to quickly spread the word about this cute and interesting infant teething toy. In 2010, there were more than 816,000 Sophies sold, just in France, which is nearly as many live births as there were in France in the same year.
So … What's So Great About Sophie the Giraffe?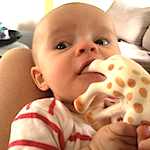 The easily washable teething giraffe is clearly designed with infants in mind. Sophie is seven inches tall, one inch deep, and 4 inches wide, and weighs less than 2 ounces. This makes the Giraffe easy for a baby's hand to hold on to, maneuver, and lift. Sophie is hand-made made in France from BPA free natural rubber.
The infant teething toy is extremely soft and smooth, and easily recognizable by a baby, not unlike the skin of the baby's mother. Very specifically made with visually contrasting spots, an auditory "squeaker," and a soft and very specific scent related to the natural rubber, Sophie the Giraffe is excellent for the neurological development of a baby. All of this … and the the teething giraffe is a "mother-and-baby-approved" toy for teething infants, providing reliable relief from some of the pain and irritation of infant teething.
The Sophie Giraffe Teether is Very Popular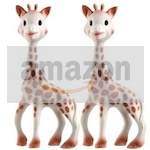 At the time of this writing, the Sophie the Giraffe infant teether was a more popular seller on Amazon.com even than several other superbly selling Baby products, including: Baby Einstein Take Along Tunes; Carter's Keep Me Dry Waterproof, Fitted, Quilted, Crib Pad; the Summer Infant Contoured Changing Pad; the Cloud B Twilight Constellation Night Light Turtle; and the Graco Nautilus 3-in-1 Car Seat. The Sophie Giraffe teether seems to have well-earned her typically positive feedback comments like, "totally lives up to the hype," "this is truly the greatest toy we have – truly!" and "Wow! Best baby toy ever!"
Sophie is a stable top-seller on Amazon.com in the "Baby" category, with over 2,000 product reviews, and earning a consistent 4 stars out of 5 rating. Sophie the Giraffe is so popular that parents of infants sometimes receive more than one Sophie, either FROM more than one of their friends, or FOR more than one of their infant children.
In the United States, Sophie's popularity has been especially boosted because of the notariety provided by stars like Madonna, Sandra Bullock, Nicole Richie, and Kate Hudson, all of whom have adopted Sophie for their babies. Sophie the Giraffe also appeared in the 1987 movie, Three Men and a Baby. As such, some mothers even describe Sophie the Giraffe as a "status teether."
Sophie the Giraffe is an Award Winner!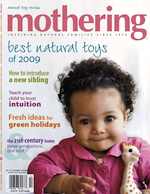 Having been "baby-tested" and "mother approved" by many millions of infants and mothers throughout the world for over fifty years, the teething giraffe has gained a giagantic amount of attention and notariety with people and organizations, in addition to the parents of teething babies.
Notably, this infant teething toy has won several awards for children's toys, including: the ASTRA (American Specialty Toy Retailing Association) Best Toy for Kids award, in 2009; and is also a Martha Stewart "Must Have" infant toy.